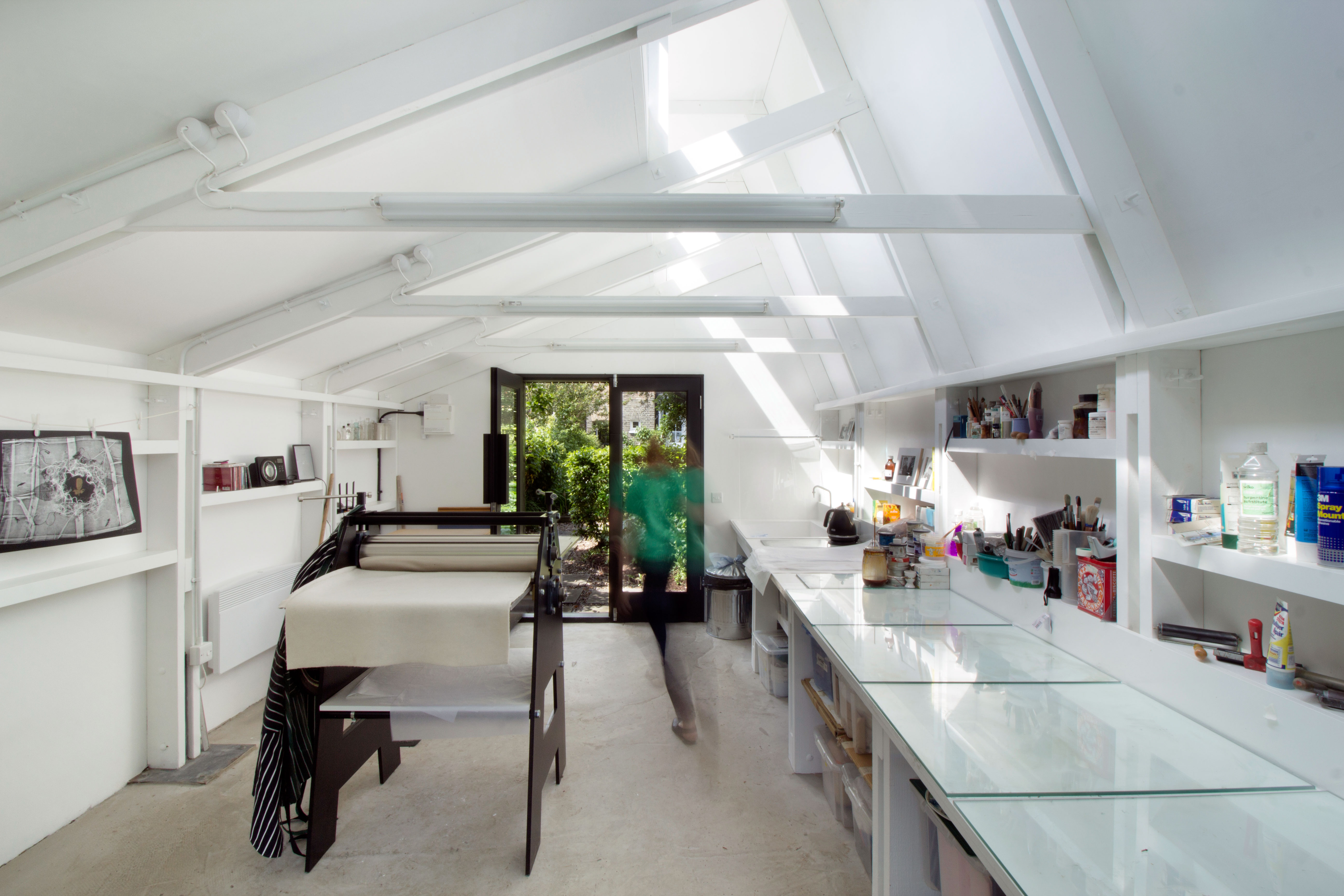 The Print Studio

New build print studio for artist Susan Aldworth in the garden of a Grade 2 listed 18th century house in Hackney, London.

In collaboration with Anthony Staples

Hackney Design Awards (2018), Winner. Don't Move, Improve! (2019), Longlisted.

An asymmetric roof lends the building a distinct character, creating a light chimney which floods the workspace with indirect daylight while maintaining privacy to neighbours. An exposed structural timber frame articulates the interior space, while the external timber cladding ensures the outbuilding sits comfortably in its green garden setting.

" The process of designing the Print Studio was exciting from the start.

The future of the studio I rented in Hackney Wick was becoming increasingly uncertain - with perhaps only 6 months left on the lease. I needed to have a permanent studio for my practice and to house my weighty etching press. Building a studio in my garden which was both affordable and fit for purpose seemed the only long term option.

In visits to my Hackney Wick Studio, Tony and Beni discussed my working process in depth as well as asking me for a "wish list" for a purpose build studio. I explained that my large etching press would need enough space around it to work, and that I needed space to draw, ink up and dry my prints. I wanted good light, heating and good ventilation. I wanted a building which I would love. I told them of my passion for light chimneys at the Soames Museum, and my love of the black fisherman's huts in Hastings.

From this information, Tony and Beni developed the drawings for my studio which included light chimneys in the roof, a huge window and door looking on to a secret garden at the back, and large glass french door at the front. The internal structures were left visible, giving the building a dynamic internal skeleton. The exterior was made from black wood planks of varying widths, which referenced the fishermens' huts.
The overall design was simple and beautiful. Not only was everything fit for purpose ( from the size of the sink to soak my paper in, to the width of the work benches) but the attention to detail in the shape of the studio and materials used have produced a print studio which has more than fulfilled my dreams. I love both the design of the building and the feel of working in it.
The Print Studio has transformed my working life. It is a beautiful light magical space. I moved in last November and find it an inspirational environment to work in. Not only that, the building sits quietly at the bottom of my garden, hidden away from both my house and virtually invisible to neighbours. An added bonus from the design has been the aspect of looking back at the beautiful Georgian terrace from the front, and to sit quietly in the newly created secret garden behind it. The garden birds don't realise I am in the studio and I have watched wrens, blackbirds and goldfinches raise their young this summer."
Susan Aldworth
Photo Credit Diogo Real